Post reblogged from Transient. with 13 notes
This was my reading experience.

After the first chapter:

Whenever Richard fought anyone:

Whenever Alec trolled someone:

Whenever Alec showed his inner sociopath:

Whenever I was trying to figure out Teh Intrigues:

At the end I was a mix of:

and:

And then I read "The Death of the Duke" at the back of the book and was basically this:

You have to read The Man with the Knives. It's online, free, and legal. You will sob.
Yeah k so I read "The Man with the Knives" and for some reason Sophia made me do this: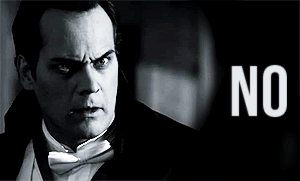 But for the rest of it I was just doing this:
Source: bahnree